Jewish Resistance
---

While many historians would assert that during the Holocaust the Jews were led like "sheep to the slaughter", the reality of the Jews' reaction to deportation, ghettoization, and death was not so docile.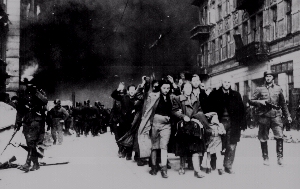 During the period from the early 1930's to the middle of the 1940's, the Jews in Germany, Poland, and throughout Europe faced intense discrimination from Hitler and the Nazis. Starting with boycotts and pogroms, the Nazis proceeded to institute legislation against the Jews with the Nuremberg Laws. Ghettoization began in the late 1930's. Huge groups of Jews in most of the major cities throughout Europe were forcibly removed from their homes and relocated to special, confined areas of the cities. The conditions of the ghettos were terrible. With thousands of Jews occupying these tiny domains and with little food, disease and death were rampant. Living in one of these ghettos, "the Jewish historian Emanuel Ringelblum wrote in his diary on November 8, 1940: 'We are returning to the Middle Ages'" (Dawidowicz and Altshuler). In the infamous concentration camps, the situation was even worse. In many of these death camps, Jews were led straight to their demise in a gas chamber. In others like Auschwitz, the Jews worked to their death.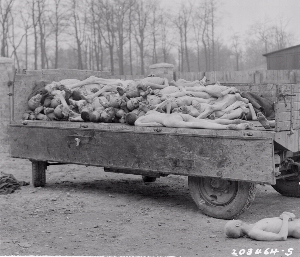 In situations like these with armed Nazis present and controlling everything that came into and went out of the ghettos and the camps, it is hard to imagine that any resistance by the Jews was possible. Jews faced death for something as simple as unauthorized trading of rations of food or other materials; getting weapons was a virtual impossibility. Yet, in spite of these dreadful circumstances, the Jews did manage much resistance--spiritual and armed--against their tormentors.
Perhaps the reason that resistance was not more prevalent in the Jewish community was the fact that the Jews faced ""collective responsibility,' [which] as the term suggests, held entire communities or their leaders hostage, to suffer for acts of resistance. In most cases as a result, resistance was guaranteed to punish Jews, rather than assist them" (Marrus).Thus, entire groups of Jews could be killed for the resistance efforts of one person. This simple but effective Nazi tactic kept most Jews very frightened of any resistance effort.
What is amazing is the number of incidents of resistance that the Jews accomplished even in the face of death. The best way to view Jewish resistance is as a "full range of activity noted by historians of resistance in general...Armed conflict was on the peak of a great pyramid of resistance activity, most of which was designed in other ways to impede German objectives and contribute to the victory over Nazism" (Marrus).

Contents:
Armed Resistance I Spiritual Resistance I
Vocabulary I Story of Ona Simaite I Bibliography
Links I About Always Remember